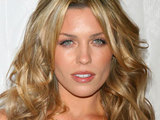 She's just landed her own E4 reality show, she's one of the most beautiful women in the world and nobody in the land of celebrity has a bad word to say about her. So career-wise things couldn't be going any better for Liverpool lass
Abbey Clancy
. But according to tabloid press, the stunning WAG had her world turned upside down at the weekend by some alleged cheating and bad behaviour from lanky England striker Peter Crouch. With Abbey on the front of all the papers, here are ten fast facts about the 24-year-old.
1.
Abigail Rose Clancy was born on January 10, 1986 in Liverpool. She grew up in Croxteth Park and one of her early jobs was in Liverpool city centre at the Bulletproof second-hand clothes store.
2.
Before she appeared on
Britain's Next Top Model
, Abbey had a first stab at fame in the pop three-piece Genie Queen, with Ann Ord and Lauren Blake. Despite being compared to chart-friendly groups like Atomic Kitten, the girls' big break never came and they split after three years of recording, performing and singing. They were managed by OMD's Andy McCluskey.
3.
They may never have won any Brit Awards, but Genie Queen did bag Abbey one gong. She is the proud owner of one-third of the group's 'Best Newcomer' title that they earned at the quite brilliantly named Scousology Awards in 2003.
4.
We think we can pinpoint where it all started to go wrong for Abbey and Peter. It was clearly down the local shopping centre in Tottenham on a Sunday afternoon when the cracks started appearing. Apparently, the gangly forward can't stand being dragged around the clothes stores with his missus. "We fight every time we go shopping together," she says. "He walks behind me like a child and I just hate it. He just stands behind me and follows me instead of going like, 'This is nice'. And I'll test him by picking up something that's horrible and go, 'Do you like this?' and he'll say, 'Yeah', and I'll be like, 'See, you're not paying attention'."
5.
Just because she's a WAG doesn't mean that Abbey is stupid. In fact, when she was put to the test on
Chris Moyles's Quiz Night
, she actually ended up winning the whole show. Stick that up your
Mastermind
!
6.
Clancy was ranked 37 in FHM's definitive Sexiest Women In The World poll back in 2007 and she has improved on that every year since. In 2009 she moved up to 12, while earlier this year she landed a spot in the Top 10! You'd have to be pretty daft to cheat on a woman rated so highly, wouldn't you?
7.
It's surprising that Abbey doesn't get sick of the sight of men running around in shorts and hoofing leather balls around. Not only did she spend her summer on
James Corden's World Cup Live
and every Saturday cheering on her (ex?) lover Peter Crouch, but her brother Sean also has a decent right boot on him as well. Sean Clancy is a non-league player for Fleetwood Town. I bet she's fed up with muddy football socks.
8.
Abbey's all-important vital statistics are rumoured to be 32-24-35. And handily for the 6ft 7in Peter Crouch, she's quite a tall girl as well, measuring up at 5ft 9in.
9.
Do all the WAGs really hate each other then? According to Abbey, that's not the case and they in fact get on rather well. She is even willing to describe a bunch of them as "foxy". "Lots of them are really foxy. Elen Rives is gorgeous, Joe Cole's girlfriend Carly Zucker and Carrick's lady Lisa Roughead are exceptional. And [Victoria Beckham], I was completely in awe of her. She's gorgeous to look at. But we didn't see much of her as she has her kids to look after."
10.
And finally, are the rumours true that she had her own St Tropez sunbed installed in her house? Sadly that was a myth. "I wish it was. It'd save me going out to get a spray tan every week," she said. "I don't think of myself as a WAG, although obviously I go out with a footballer so I'm labelled one. But it's the people who read about it who are obsessed with the WAG thing, not the girls who go out with the players. It's a bit of a joke to us."