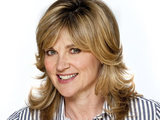 TV presenter
Anthea Turner
has confessed that she has had Botox and a boob job.
The 50-year-old former
Blue Peter
star revealed the information about her cosmetic surgery after posing dressed as Madonna for a
Closer
magazine shoot.
"I have a bit of Botox now and then because I've developed two frown lines between my eyebrows," she said.
"I also had a boob job back in 2004 so I'm not averse to surgery and helping nature along a bit."
Turner claimed that she keeps her figure in shape with regular jogging sessions and watching what she eats.
"When I go running I make sure I get out of breath for a good half hour," she said. "It's no use just walking the dog, you need to break into a sweat if you're going to stay fit.
"You hold back the years if you look after yourself. My weight fluctuates between 8st and 9st and I've never been any heavier. I'm a real chocoholic and I love pasta, but I can't really eat them anymore. I just put on weight too easily and I really have to keep an eye on my intake these days."