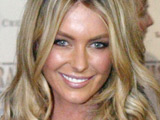 Jennifer Hawkins
has blamed her recent weight loss on "severe" food poisoning.
The Australian supermodel, who recently caused controversy when she took to the catwalk at the Myer department store summer launch looking skinny, said she was aware that she looked thinner than normal.
Hawkins told
New Idea
magazine: "I am healthy - there is absolutely no problem. I was definitely thinner than I usually am, but it was not my intention to be as lean as I was.
"I had a severe case of food poisoning while I was in Europe recently and it took its toll on me. I knew I was smaller than usual, but there was nothing I could do. I ate lots of healthy food before the parade and my mum even came to Sydney to cook [boyfriend Jake Wall] and me a yummy meal.
"I do maintain a healthy lifestyle and love to exercise and eat well, but things like getting sick happen. I am only human."