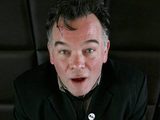 Stewart Lee
has admitted that he no longer tries to appeal to all people.
The comedian told
Metro
that he returned to stand-up after failing to make a living from the controversial
Jerry Springer: The Opera
, despite its success.
Lee said: "A lot of what I thought of as limitations of stand-up suddenly seemed like advantages after working on
Jerry Springer: The Opera
. You can write something in the morning and perform it that night.
"I thought I could mess with the format more and decided instead of being really popular I should aim for the people who liked me and I'd be alright. It suddenly seemed really simple whereas
Jerry Springer: The Opera
didn't add up financially. I thought if I could just get 4,000 people to see me once a year I'd be all right."
He added: "Comedy was supposed to be the new rock 'n' roll in the 1990s. After Newman and Baddiel played Wembley there was this thought that the sky was the limit for everyone but there is a top limit to what I do, 90% of people won't like me.
"I had to realise that. Instead of someone promoting me as the next big thing I had to realise I was never going to be that and make a living out of what I did. My TV show might have got 1 million viewers but that means 59 million didn't watch it. People find me boring. I had to find the minority of people who didn't and get them to help."
Asked if he had a typical fan, Lee quipped: "When I go to a town I go to the comic shop, the independent record shop and the independent book shop and the people behind the counters usually have tickets to my show. It's usually pretentious self-satisfied outsiders with funny hair. That's what I like."
> Stewart Lee slams Fosters comedy poll