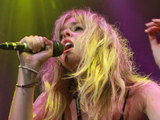 Diana Vickers
has voiced her opinion on legal drugs, saying that they 'aren't necessarily safe'.
The
X Factor
contestant revealed that she is 'scared by being out of control'.
The singer told
The Sun
: "At festivals this summer, I've seen people passing out and people who don't know where they are or what they are doing after taking drugs.
"I was even around someone who thought that their friend was a fridge."
She added: "Being that out of control scares me. Just because a drug is legal, you cannot assume it is safe."