Showbiz News
Crouch criticises 'Sun' over baby story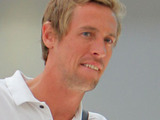 Peter Crouch
has issued a statement criticising
The Sun
for revealing that Abbey Clancy is pregnant.
Yesterday, the tabloid newspaper
announced
that the model and WAG is expecting a baby boy, claiming that she had been overhead talking about her 12-week scan in a restaurant.
However, the England footballer has complained that the publication broke the news before she was three-months pregnant and the couple had informed all their family members.
Crouch said: "I am very upset by the way in which
The Sun
has behaved. This is a private matter between me and Abbey and she is in fact less than three months pregnant. Abbey told me on 25 July that she was pregnant but we agreed to keep it private until she was ready to make an announcement.
"There were even some members of our families who were still unaware that Abbey is pregnant until today's revelations in
The Sun
. I will not be saying anything more at this time."
The footballer's solicitor Graham Shear added: "Peter Crouch today condemned intrusive
Sun
reporters who followed his girlfriend to a private clinic and eavesdropped and apparently recorded her private conversation in a restaurant.
The Sun
published a story stating that Abbey is pregnant, depriving her of the opportunity to make this public in her own time and in her own way."
Crouch and Clancy have been at the centre of
tabloid speculation
since the Tottenham striker was accused of cheating on his fiancé with 19-year-old Monica Mint while on a stag weekend.