Showbiz News
Natalie Cassidy 'upset by Cesarean'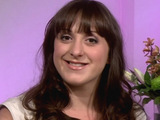 Natalie Cassidy
has said that she is on "cloud nine" after the birth of her baby daughter.
The former
EastEnders
actress told
OK
that she and fiance Adam Cottrell are over the moon with the birth of Eliza Beatrice last Tuesday.
"We're amazing! We're on cloud nine," she said. "We keep crying all the time. We're a family! I can't believe she's ours. She's so beautiful, I can't begin to tell you - I know everybody says that about their own baby but she really is."
However, Cassidy revealed that she was devastated to have had to have a Cesarean.
She said: "We were [planning a natural birth]. At one point I was even thinking of having a home birth, so I was really upset when I realised it was going to have to be a Cesarean. I was sobbing my heart out.
"I know it sounds ridiculous but it just seemed like such a 'celebrity' thing to do, to have a Cesarean, with the whole 'too posh to push' thing."
The 27-year-old added: "I've got ulcers in my mouth, I'm sore from the operation, my boobs hurt from breast feeding, I'm constipated... but I'm so happy!"
> Natalie Cassidy: 'I'm in so much pain'