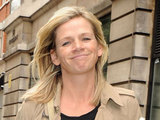 Zoe Ball
has admitted that her days of heavy drinking mean that she cannot remember "huge chunks" of her life.
The former
Live & Kicking
host revealed that she thought she would wind up in a psychiatric home if she did not kick the habit, and now thinks of her decade of decadence as "one big mess".
She told
Grazia
that Radio 1 was happy for her to play on her 'ladette' image when she joined the station as breakfast show host in 1997.
"I started trying to live up to the label," she confessed. "I loved it at first. Hanging out with people who partied every day, woke at 5pm, had a few shots of vodka and a bag of chips, then went clubbing again."
However, her lifestyle soon took a downward spiral. She went on to say: "There are huge chunks I don't remember - or don't want to remember."
Ball told the magazine how a New Year's Eve party of "total carnage" in 2008 had left her a "wreck", adding: "I sat sobbing, knowing if I didn't stop I'd end up in a mental home. I called a therapist I'd been seeing and asked for help."
The therapist told her to check into rehab, but Ball was unwilling to go without husband Norman Cook - also an alcoholic - as she did not trust him to be alone with their son Woody.
"It's bloody tough, bloody painful, trying to get sober on your own. The harder I tried, the more Norm went in the other direction," she recounted.
Speaking of Cook's decision to follow her advice and check into rehab in March 2009, she added: "I remember feeling so anxious. But he did it. What a man - he's strong, he's changed, he's unbelievable and we are solid."
Ball, whose daughter Nelly was born in January, said: "Me and Norm call Nelly our gift of sobriety."