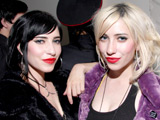 The Veronicas
have taken part in the latest anti-fur campaign from the People for the Ethical Treatment of Animals (PETA), which includes a controversial poster.
The twin singers unveiled their new poster in Sydney, which features the pair holding up skinned rabbits with the slogan: "Here's the rest of your fur coat."
According to
The Daily Telegraph
, Jess Origliasso said: "Designers that still use fur, to us it is just ignorant, it is unnecessary and it is unacceptable."
Similar PETA campaigns in the past have been fronted by
Eva Mendes
and
Pamela Anderson
.