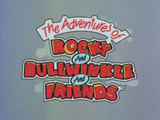 TV cartoonist
Alexander Anderson
, the creator of TV characters Rocky and Bullwinkle, has died at the age of 90.
According to the
Los Angeles Times
, Anderson passed away at a rest home in Carmal, California last Friday. The cartoonist was suffering from Alzheimer's disease.
Anderson also created the characters Crusader Rabbit, Rags the Tiger and Dudley Do-Right of the Mounties, bringing them to television with the help of Jay Ward, a college fraternity mate he met at the University of California.
Crusader the Rabbit was the first animated TV series of the 1950s, according to
The AP
.
Rocky and Bullwinkle, Anderson's most popular characters, first appeared on television in 1959 in the animated series
Rocky and His Friends
and then in
The Bullwinkle Show
, and were later brought together in
The Rocky and Bullwinkle Show
.
Rocky and Bullwinkle appeared as computer-generated characters in the live-action film
The Adventures of Rocky and Bullwinkle
, released in 2000.
Speaking to the
San Francisco Chronicle
in 1991 about the creation of Rocky, Anderson said: "I had worked on Mighty Mouse, and he flew around. I didn't understand the mechanics of how a mouse flew - or, for that matter, how Superman flew. But flying squirrels do fly, and that gave him the mantle of superness without having to stretch the truth."
In the same interview, the artist discussed his original inspiration for Bullwinkle, the moose: "They're macho, but they have a comic aspect, with that schnozzola of theirs. There are few creatures just begging to be caricatured."