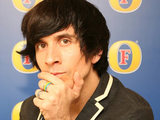 Russell Kane
has defended the one-off Foster's 'Comedy God' prize after it was attacked by fellow stand-up Stewart Lee.
Lee
described
the 30th anniversary Edinburgh Fringe gong as "shameful", "inane", "farcical" and "selfish". The prize later went to little-known act Frank Chickens, who were namechecked in Lee's rant.
Speaking to
DS
, this year's Foster's 'Edinburgh Comedy Award' winner Kane said: "I didn't really understand the attack on the 'Comedy God' thing. That was like trying to find a 'Booker of Bookers'.
"I think that was just Stewart Lee being Stewart Lee. I'm sure [organiser] Nica [Burns] would have been delighted at the whole subversive element of it."
He continued: "She's not that sort of character to say 'Our award is an edifice that must not be touched'. She was, by all accounts, pretty into the idea of it being f**ked up and invaded and subverted and stuff like that.
"That's what this is all about, so I encourage people like Stewart Lee to speak out and try and make comedy out of the world of comedy whenever possible."
Of his own Edinburgh win, Kane added: "It's unbelievable. More than... It was so much I didn't feel anything, I was numb with disbelief, it was that big for me.
"There's so few categories and 4,000 shows, it blows your mind out the back of your skull. You go on that website and look at the alumni and you just feel humbled and ridiculous to be included.
"My brain doesn't go Stephen Fry, Emma Thompson, Dylan Moran, Al Murray, Jenny Eclair, Frank Skinner, Daniel Kitson... Russell Kane. It's like, what, fraud! But there you are, it happened, so I just try not to think about it and get on with what I'm doing."
Russell Kane won Best Comedy Show at this year's Foster's Edinburgh Comedy Awards. For access to more comedy content visit the Fosters Funny website.
> Russell Kane talks 'Comedy Masterclass'