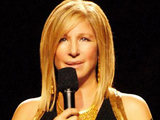 Barbra Streisand
! It's not just Duck Sauce who can't get enough of the Grammy, Oscar, Tony, every-award-going winner these days. After a return to the top of the album charts in both the UK and US last year, fans have now been treated to the release of
Barbra - The Ultimate Collection
. While we're all celebrating - you may also want to check out what is an offer over on
Gay Spy
. This week we take a look back at the many achievements of one of the most successful entertainers in modern entertainment history...
1.
Born on April 24 1942 in Brooklyn, New York, Barbra Joan Streisand was the second of the three children for parents Emmanuel and Diana. However, her father died of a cerebral haemorrhage when she was just fifteen months old.
2.
Barbra has been married twice - to Elliott Gould, (Jack Geller in
Friends
) from 1963 to 1971. They had one child together. She then wed James Brolin in 1998. Although they don't have any children together, Brolin's son from a previous marriage is actor Josh Brolin. Coincidentally both Gould and Brolin starred in 1977 film
Capricorn One
.
3.
Barbra dropped an 'a' from the original spelling of her name when she was 18. She has admitted that she "hated" the spelling but refused to change her name. "Well, I was 18 and I wanted to be unique, but I didn't want to change my name because that was too false," she once said. "You know, people were saying you could be Joanie Sands, or something like that. And I said, 'No, let's see, if I take out the 'a,' it's still 'Barbara,' but it's unique."
4.
Streisand is the only artist to have had Billboard #1 albums in five decades from the sixties to the noughties. She has earned 51 gold, 30 platinum and 18 multi-platinum albums. Her 1964 LP
People
was the first of her eight to top the charts. She also holds the record for the longest gap between a first and last chart-topping album - which currently stands at 46 years.
5.
She has received countless honours and is the only person to have scooped Oscar, Grammy, Tony, Emmy, Directors Guild of America, Golden Globe, National Medal of Arts, and Peabody awards. Barbra is the only person to have won Oscars for both acting and songwriting.
6.
Streisand was director Ken Russell's first choice to play Eva Peron in 1996 film
Evita
. She declined the role, which was eventually taken by Madonna.
7.
She founded The Streisand Foundation in 1986. It has contributed over $16million, through grants, to "national organizations working on preservation of the environment, voter education, the protection of civil liberties and civil rights, women's issues and nuclear disarmament".
8.
Streisand made her British TV performance debut last year in a special edition of
Friday Night With Jonathan Ross
. The performance saw LP
Love Is The Answer
become Streisand's third album to top the UK charts.
9.
She made her return to film acting in 2004's
Meet The Fockers
. The role of Roz Focker was her first since she directed, wrote and starred in 1996 flick
The Mirror Has Two Faces
. She will reprise her role as Focker in upcoming sequel
Little Fockers
.
10.
Barbra has a rose named after - one she says is a "very bigger seller." However, not just any rose gets the honour of being a Barbra Streisand rose. "It had to be very healthy, a disease-resistant rose. It had to have fabulous fragrance and the colour had to be - I'm very particular: There's not an orange thing in my house or in my garden. If this rose is in bloom, it's lavender. And as it blossoms, it actually goes through many colours, like a chameleon, which represents me in a sense, because I have a lot of facets to my personality."