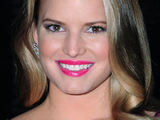 Jessica Simpson
has reportedly decided not to sign a prenuptial agreement before marrying former football player Eric Johnson.
Simpson, who announced her
engagement
to Johnson this past weekend, has allegedly declared that she does not want a prenup, even after her ex-husband Nick Lachey won millions of dollars in their divorce in 2005.
A source told
Pop Eater
: "Nick walked away with over $10 million (£6.2m) of her money when they divorced, because they had no prenup. You would think she would have learned her lesson. But where romance is concerned, Jess follows her heart not her head."
However, sources also say that Simpson's father is pushing for a prenup.
"At the moment, Joe is sitting back and being a great father, supporting his daughter and his future son-in-law," an insider said. "However, you can bet after all the excitement has died down, Joe is going to do everything in his power to make sure Jessica doesn't walk down the aisle until Eric signs away any right he might have to Jessica's enormous fortune."