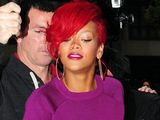 Rihanna
has joked that Justin Bieber flashed his abs at her during a recent outing in New York.
The
'Only Girl (In The World)'
star took to her Twitter account yesterday to tell fans that she caught a glimpse of the teenager's abs while they dined together.
"Justin Bieber just flashed me his abs in the middle of a restaurant! Wow! He actually had a lil 6 pack! Sexy,lol! #Beliebersplzdontkillme, (sic)" she wrote.
Bieber later wrote on his Facebook page: "Great night out to dinner with the beautiful @rihanna... I'm not complaining... RiRi....check for the new album (sic)." He also posted photographs of the pair posing together during the evening.
Rihanna and Bieber are both confirmed to perform at the American Music Awards this weekend, which air live from the Nokia Theatre in Los Angeles on November 21 from 8pm ET on ABC.