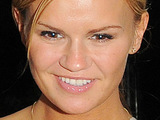 Kerry Katona
has described her new management team Can Associates as being like her "surrogate parents".
The reality TV star, who signed for Can after ending her marriage with Mark Croft, said that the company bosses Claire Powell and Neville Hendricks were like family to her.
"Claire and Neville are like the best surrogate parents I've ever had," she told
DS
. "If it wasn't for Claire and Neville... before I got with them, I got out of my marriage and wanted to turn it around, but they gave me a helping hand. If they hadn't been there, God knows where I would be.
"They are not just my management, they are my family."
Katona also explained that the reason she wanted to open up about her drug taking and financial problems on new ITV2 documentary
Coming Clean
was because she was tired of people making money out of her personal problems.
"People would sell stories on me [if I didn't tell the truth]. I'm tired of people making money out of me. I want to start afresh," she said.
> Click here to watch our full interview with Kerry