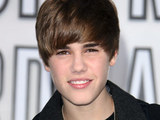 Justin Bieber
has announced that he has received a set of his own trading cards that will be available in US stores this week.
The cards will be sold at Walmart, Target and Toys "R" Us, among other stores. Bieber, who already has a line of singing dolls and nail polish, released a statement about the trading cards, revealing his excitement about the collection.
"I always dreamed of being a hockey player and having my own trading card," said Bieber. "I remember collecting hockey cards, so the idea that kids are going to enjoy my cards like I enjoyed my hockey cards is amazing!"
The set includes 150 cards, as well as 30 stickers. Fans can also collect four nine-card puzzles to assemble into Bieber posters, reports
ABC News
.
Bieber released an acoustic album last month. His 3D concert movie
Never Say Never
opens in theatres on February 11, 2011.