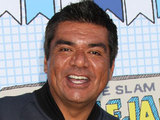 George Lopez
has said that he wasn't serious when he said that he wanted to run for mayor of Los Angeles.
During an appearance on Fox's
Good Day LA
, Lopez
revealed
that he plans to run for office in eight years' time.
However, according to
TMZ
, the comedian has now insisted that the claim was a joke and he does not plan to run for mayor of LA.
The late-night chatshow host's representative Ina Treciokas also confirmed that Lopez was joking about seeking the office of mayor.
Lopez previously said: "If Arnold Schwarzenegger can be governor... why can't George Lopez be the mayor of Los Angeles?"