Showbiz News
Gail Porter beginning to lose hair again?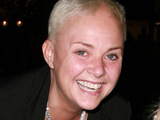 Gail Porter
has revealed that her newly-grown hair has begun to fall out.
The Scottish presenter - who started to go bald after being diagnosed with stress-related alopecia in 2005 -
confirmed
in February that her blonde locks had begun to return, but warned at the time that it was not uncommon for sufferers of the disease to experience repeated hair loss.
The 39-year-old took to Twitter yesterday and told her fans: "Arrrrrse!!!!! My hair is falling out rather rapidly today. Total of 4 bald patches. Going to cover them with star wars stickers. X (sic)"
The Sun
reports that the incident was not an isolated one, as Porter posted on the social networking site a month earlier that she was experiencing a "bit of hair falling out again".
Porter stated during a May interview that she had
come to terms
with the disease, as going bald was "not going to kill" her.