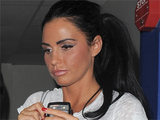 Katie Price
has seemingly confirmed tabloid reports that her marriage to Alex Reid is currently going through difficulties.
An article in the
News of the World
claimed
that "it is no exaggeration to say that the marriage is in crisis", but added that neither individual had "been unfaithful or are lining up new partners".
Reid and Price were said to have gone on holiday together as part of their "commitment to making it work".
Writing on Twitter this morning, Price confirmed: "To answer my fans questions news of the world did a accurate story sunday about our marriage in crises ..always look on bright side xx (sic)."
Price
married
Reid in Las Vegas in February 2010, four months after her
divorce
from Peter Andre was finalised.
In response to a fan who asked her to give a full magazine interview and photo shoot about her life, Price responded: "I know I haven't. I will but to many people betraying me so don't deserve a interview."