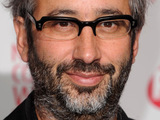 Steve Punt
has admitted to feeling a "twinge" of jealousy when his former comedy partners David Baddiel and Rob Newman played Wembley in 1993.
Together with Hugh Dennis, the comedians had all starred in BBC sketch show
The Mary Whitehouse Experience
. Newman and Baddiel later became the first comedians to perform at and sell out the 12,000 capacity Wembley Arena.
Asked how he felt about that show, Punt told
Metro
: "I wouldn't have been human if I hadn't felt a twinge of jealousy. When you get to Waterloo station and there's a 20ft David Baddiel looking at you, you're conscious that you've been outmanoeuvred.
"On the other hand, ultimately you get the career that your personality demands. I don't think either of us has that kind of star mentality that David always had.
"We just aren't the kind of people who would want to put their heads that far above the parapet. Our careers developed much more slowly."
Of his upcoming 'You Should Get Out More' tour with Dennis, Punt added: "We don't do long sketches, it's not a review in that sense, but it's not straightforward stand-up either.
"It's an awkward, genetically modified cross-breed of the two - a sort of double-headed stand-up, flitting in and out of different voices and characters."