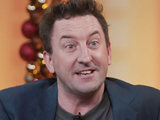 Lee Mack
has admitted that he is not a fan of Twitter.
The comedian claimed that he does not understand why the social networking website is so popular among his peers. Speaking to
Metro
, he confessed that he would not want to receive negative feedback on his BBC show
Not Going Out
.
Discussing reports that Keith Chegwin had 'stolen' jokes from other comedians and used them on Twitter, Mack said: "No, that was the story in the papers but he didn't actually nick any of my jokes. I'm more bothered about the existence of Twitter.
"The default position now is that comedians do Twitter but I don't know why. Every bad story you see about a comedian has a connection to Twitter."
He continued: "Before Twitter, if comedians wrote what they had for lunch on a Post-it and put it through your letterbox you wouldn't find it acceptable – but now apparently it is on Twitter. And why would you want people sending you messages saying, 'Your new TV show is s**t?'."
Not Going Out
continues tonight at 9.30pm on BBC One.