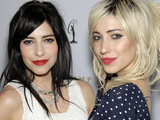 Jess Origliasso
has become trapped by the Australian floods.
The Veronicas singer, whose twin sister and bandmate Lisa is currently overseas, became stranded at her mother's house in Brisbane as the water levels rose.
Jess told Austereo: "We headed out yesterday and stocked up as much as we could. We were actually told that our area wasn't going to lose power so we prepared a little, but it suddenly went out, and we're not sure if it will get turned back on - it probably won't for a fair few days.
"We have a warehouse that's going to go under that's got a lot of musical equipment. It's a bit unfortunate we weren't able to move it in time. That's okay, possessions can be replaced - it's people that can't.
"Do everything you can to keep everyone safe because it's really hard times at the moment."
Jess's boyfriend, Smashing Pumpkins rocker Billy Corgan, took to his Twitter page to urge the public to "pray" for victims of the tragedy.