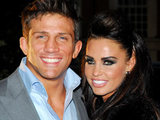 Alex Reid has reportedly refused to sign legal documents to confirm that his marriage to
Katie Price
is over.
The pair apparently met with a lawyer earlier this week to produce a statement announcing their separation. However, the cage fighter broke down when it came to signing the papers and begged Price to give their relationship another chance, according to
The Sun
.
"The situation is verging on the ridiculous," a source said. "Everything was agreed on the wording of the statement and the separation at the weekend. It was simple enough. A few lines saying the marriage hadn't worked out, they wished each other well and they wouldn't be saying anything further.
"Katie signed the papers but, when it came to Alex, he broke down and cried. He wouldn't do it. He was livid about the
Amir Khan business
, but wanted to prove he was the bigger man. He still thinks, given time, he could remind her why they fell in love in the first place. He's a broken man - he can't believe it hasn't worked out."
The model has also allegedly cut Reid off financially, refusing to continue paying his publicity costs.
The source added: "Katie told Alex to look after himself because she's not going to pay another penny from her fortune to support him. That was the big signal to him that she'd left him high and dry."