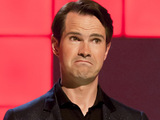 Walkers have revealed a new line of Comic Relief crisp flavours based around popular comedians.
The four new flavours have been designed around TV stars Stephen Fry,
Jimmy Carr
, Al Murray and Frank Skinner.
Stephen Fry Up, Jimmy Con Carne, Steak & Al Pie and Frank Roast Dinner will raise money for Comic Relief and the comic who sells the most packets will be spared a TV waxing on Red Nose Day, March 18.
"My crisps perfectly embody each delicious component of the great British fry up, with layer upon layer of quivering, shivering tastes that keep on giving. It is plain to all that my flavour is infinitely superior to the others," said Fry.
Carr quipped: "What motivated my choice of Chilli Con Carne was obviously a really bad pun but as luck would have it they're delicious. I'm pretty confident I won't get waxed. The hair on my legs is safer than the hair in a German ladies armpit."
Pub landlord comic Murray said "What sounds more delicious than steak & ale pie crisps? This is the food of the Brits - I'm going to win on this flavour alone! If Jimmy Carr thinks he can beat me with a bit of chilli then he has another thing coming. This is war!"
Skinner added: "All my life I've searched for something that was truly worth fighting for - something noble, uplifting and made from potatoes; then came Frank Roast Dinner crisps. No other comic-championed crisp can be allowed to stand in my way. This is my time. Wake up and smell the gravy!"