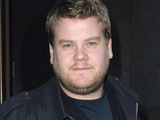 James Corden
has declared that he wanted to name his baby Mister.
The
Gavin & Stacey
comedian, who is
expecting
his first child with fiancée Julia Carey, said that his unusual suggestion for the baby's name was immediately rejected.
Speaking on
Alan Carr: Chatty Man
, Corden revealed that the couple do not want to find out the baby's sex before its birth - expected in April - but said that they have been busy drawing up a list of potential names.
"I had a name which I can tell you about as it's been vetoed, but I quite liked it and you'll understand why it got vetoed when you hear it," he said.
"If it was a boy I wanted to call it Mister. I'm not joking. So when he's older he'll be called Mr Mister Corden - so good they named him twice."
According to
The Sun
, the 32-year-old admitted that his offspring's impending arrival is a daunting prospect. He said: "It's a scary time. I feel quite apprehensive about it. It's great though."
Corden went on to joke: "We went for a scan the other day and the doctor said apparently the baby has already got a really big head and a big waist. As he said this he looked straight at me!"