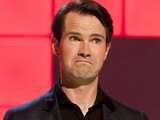 Jimmy Carr
and Rich Hall have both been named 'Legends' at this year's Loaded LAFTAS, in association with Yazoo.
Carr was branded the 'Loaded Legend' at the ceremony held at The Cuckoo Club in London and Hall was named the 'Stand-Up Legend'.
Andy Sherwood, editor of
Loaded
, said: "This year's awards just highlight the fantastic calibre of comedic talent we have in the UK across live stand-up, television, radio and film and we're delighted to be celebrating such stellar talent at this year's Loaded LAFTAS!"
The full breakdown of other winners - voted for by the public from a list of
nominees
- is as follows:
Funniest Man
Alan Carr
Best Stand-Up
Michael McIntyre
Funniest Woman
Isy Suttie
Funniest Double Act
Reeves & Mortimer
Best Panel Show
Ask Rhod Gilbert
Funniest TV Show
Phoneshop
Funniest Film
The Infidel
Funniest Columnist
Gordon Smart
Funniest Twitterer
Cat Bin Lady
Funniest DVD
The Mighty Boosh on Tour: Journey of the Childmen
Funniest Podcast
Keith Lemon's Brilliant Podcast
Funniest Sidekick
Comedy Dave, Radio 1
Funniest TV Personality
Rhod Gilbert