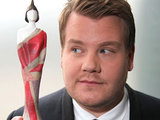 James Corden
has reportedly donated his fee for hosting the Brit Awards to Comic Relief.
The
Gavin & Stacey
comedian - who
revealed
that he received negative comments over Twitter when it was announced that he would be presenting the event - has apparently given all of his £50,000 pay packet to the Red Nose Day charity.
A source told
The Sun
: "James only let the bean-counters know yesterday that he wasn't in it for the money.
"As far as he's concerned, he would have done the job for a free suit. He's a massive music fan, has the best seat in the house and a chance to hang about with popstars he idolises."
Meanwhile, it has also been claimed that Corden mischievously drilled a hole in the wall connecting his dressing room with that of Brits performer Rihanna.
"James has already been getting in the spirit of things with his antics behind the scenes," the source added.
"When he found out Rihanna was next door, he thought it would be a laugh to customise his backstage area with a little peephole."
The Brit Awards take place at London's O2 arena on February 15.