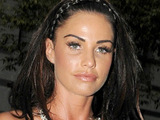 Amir Khan has once again dismissed reports linking him to
Katie Price
.
The boxer rubbished the claims, insisting that he would not betray his "good" mate Alex Reid. Last month, Khan
insisted
that allegations suggesting he had played a part in Price's decision to end her 11-month marriage to Reid were untrue.
"I don't know why people are saying we're together because it is absolute, total b*llocks,"
The Mirror
quotes Khan as saying. "We've never been anything more than friends and we never will be - I am actually dead good mates with Alex.
"He's an MMA fighter and we've talked about training together and we are mates, so I would never do anything to mess with that. He'd kill me."
He continued: "I will catch up with Katie tonight for a drink and a laugh but nothing more than that - if anybody says we are more than mates that's a load of crap. I am single and enjoying the single life."
Price also hit out at the claims made by a Sunday tabloid.
"In a 0K! Party PACKED WITH SCORES of showbiz journos for 1 hour and only one turns me bumping into my friend Amir into a fake front page...SOMEONE WAS A BIT desperate to justify their flight here,WEREN'T THEY...(sic)" she wrote on Twitter.
> Katie Price 'to sign life-changing US deal'