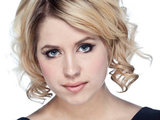 Peaches Geldof
has "strenuously denied" accusations that she stole a dress from a London shop.
The fashion boutique in Camden Town contacted police over the alleged theft of a £70 dress, after it went missing and they were unable to contact Geldof, who had reportedly been a visitor to the shop.
According to
PA
, Scotland Yard has confirmed that police are investigating the incident, which is said to have taken place on March 4.
However, Geldof's spokesperson has refuted the accusations, insisting that she was elsewhere at the time of the alleged theft.
"She's not been contacted by the police and was actually at a TV studios doing a voice-over at the alleged time of the alleged incident," the rep said.
"Peaches knows nothing about this incident, which she strenuously denies."