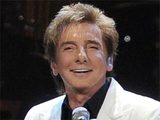 Barry Manilow
has expressed his sadness over the death of Elizabeth Taylor.
The legendary Hollywood actress
passed away early Wednesday morning
from congestive heart failure at the age of 79.
Remembering his longtime friend, Manilow told
PopEater
: "She was the last great movie star and one of my closest friends. This is a sad day for me.
"What I'll always remember about Elizabeth was her laugh. She would walk in looking like a princess, and out of her mouth would come this cackling laugh that would crack all of us up."
Multiple stars have
expressed their condolences
via social networking sites following her death.
> Obituary: Elizabeth Taylor
> In Video: Elizabeth Taylor's movie roles
> In Pictures: Elizabeth Taylor on screen
> Elizabeth Taylor: A Life In Pictures
> Elizabeth Taylor on Hollywood, sex and marriage