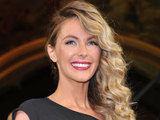 Jennifer Hawkins
has revealed that she has started thinking about her wedding.
The Australian supermodel, who
got engaged to long-term boyfriend Jake Wall
during a holiday in New Zealand before Christmas, admitted that she recently took him into a wedding dress shop to look at gowns because she was so excited.
Hawkins told
Woman's Day
magazine: "I wanted to get an idea about what I wanted, so I was like, 'Let's go in here!' I also wanted to gauge what Jake thought. He liked a few of them. Don't worry... we were in and out!"
When asked if she has organised the finer details of her big day, she said: "I haven't had time to think about it! It's all a bit of a blur. It's so strange. I usually have a strong vision for something I'm doing, like in my business, but with this... I just don't know at the moment.
"I was hoping the wedding would be this year, but we just want to make it right. So I want to give it the time it deserves. I have a lot of friends and family going so we want it to be something easy for them.
"I don't know what I am going to do [about a dress] but it's exciting. I think I will go to a designer. That would be lovely."
Wall and Hawkins recently threw an engagement party
for their loved ones in Sydney's Palm Beach.