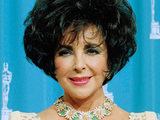 The Westboro Baptist Church has apparently revealed plans to protest the funeral of
Elizabeth Taylor
.
Posting on her Twitter page, church pastor Fred Phelps' daughter Margie lashed out at the late actress for her lifelong support of gay rights and activism for HIV/AIDS research and education.
"No RIP Elizabeth Taylor who spent her life in adultery and enabling proud f*gs," she wrote.
"They cuss her in hell today. #Westboro will picket funeral!"
Taylor
died
early Wednesday morning from congestive heart failure at the age of 79. Details of her funeral have not yet been announced.
Westboro has a long-running history of protesting events which they perceive to be promoting gay interests, most recently
picketing the premiere of Kevin Smith's Red State
and
this year's Golden Globes ceremony
. Last year,
Lady Gaga encouraged her fans to pray for the protesters
after they picketed one of her concerts.
> Obituary: Elizabeth Taylor
> In Video: Elizabeth Taylor's movie roles
> Elizabeth Taylor on Hollywood, sex and marriage
> In Pictures: Elizabeth Taylor on screen
> Elizabeth Taylor: A Life In Pictures
> Elizabeth Taylor: Her life on TV