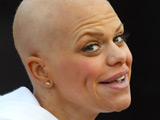 Jade Goody
's sons have inherited just £1.1m of her estimated £5m fortune because of a series of financial errors, it has been claimed.
The reality star, who
died of cancer in 2009
, apparently left a "mess of paperwork" that has taken lawyers two years to sort out.
The
News of the World
reports that Goody was on the verge of bankruptcy before being diagnosed with cervical cancer in August 2008 - mainly due to her generosity. She then sold
coverage of her wedding to Jack Tweed to OK! magazine
for £1m and made a substantial sum from book and TV deals.
The money was set aside for the future of her sons - Bobby, seven, and six-year-old Freddie. However, they are said to have inherited £450,000 in cash and an additional £650,000 which is tied up in property.
"As characterised her in life, Jade's legacy in death has been chaos - which is why it has taken the solicitors so long to get to the bottom of her finances," a close friend said. "The sad truth is that for someone who earned so much in a short space of time Jade frittered most of it away.
"Without the money she made through being ill in book, telly and magazine deals she would probably have died penniless. God bless Jade. She grew up in a rough part of London without a penny. To suddenly get wealth beyond her wildest dreams, she didn't really know how to handle it.
"She was so badly organised that she didn't keep or submit receipts for anything she had bought. So when it came to sorting out her tax, her financial advisors found it almost impossible to calculate how much she owed and Jade subsequently got hammered by the taxman."