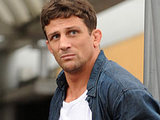 Alex Reid
has defended his decision to speak to the
News of the World
about his divorce from Katie Price.
The cage fighter told the Sunday newspaper that
at his lowest he "thought it would be easier not to be here"
. Reid
split from Price after 11 months of marriage
earlier this year.
Writing on Twitter, he stated that he did the interview in order to "set the record straight" and insisted that he had not "dished any dirt" on his estranged wife.
"Today I talked about my feelings," he wrote. "I did so 2set the record straight bein in limbo & so move forward.I was respectful & never dished any dirt (sic)."
He continued: "I didnt know Dan [Wootton] was even doin my interview & anyway I have never had any issues with Dan & he was extremely respectful in front of me bout kp."
The 35-year-old went on to retweet a message which claimed that the tabloid was "over exaggerating" with their headline 'Jordan Drove Me To Suicide'.
> Leandro Penna: 'Reid wants to damage Price'