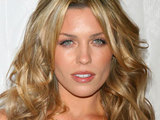 Abbey Clancy
has reportedly dismissed reports that fiancé Peter Crouch visited a girl's hotel room at 3am in Dubai.
The Tottenham and England striker was apparently recorded as a visitor at Dubai's Millenium Tower, where he visited air hostess Suzanne Thunestveitt, while Clancy was heavily pregnant.
However,
The Sun
reports that Clancy,
who recently welcomed daughter Sophia Ruby with Crouch
, told friends that she is not fazed by the speculation surrounding his presence at the hotel.
Clancy reportedly said: "I'm not at all worried. It's no-one else's business what Peter does, except mine and his. He's told me the girl was just a friend.
"There's nothing to discuss and we are concentrating only on our little girl."
The couple were previously rocked by rumours that the 30-year-old footballer had
cheated on Clancy during a stag weekend in Madrid
.