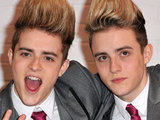 Jedward
have reportedly signed a deal to become the new faces of Coco Pops.
The twins, who are
representing Ireland at this year's Eurovision Song Contest
, will replace Coco the Monkey mascot on boxes of the chocolate flavoured cereal.
Kellogg's bosses are said to have recruited the former
X Factor
stars in a deal worth £180,000. They will film a TV advert in Los Angeles.
John Grimes told the
News of the World
: "When you walk into the shop all you will see is our faces and kids will be begging their parents to buy us. That's going to be cool."
The pair also revealed that they will front a Saturday morning children's show on CBBC this summer.
Jedward already have
endorsement deals with moneysupermarket.com
, Nintendo and
recently sold their Eurovision single 'Lipstick' for use in a new Hyundai advertising campaign
.