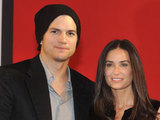 Demi Moore and
Ashton Kutcher
have suggested that taking time to express their love for one another is very important to the success of their marriage.
The couple,
who tied the knot in 2005
, appeared together as guests on
Piers Morgan Tonight
with Kutcher stressing the value of staying in tune with his wife's desires and needs.
"Working on the relationship when the relationship's good [is key]," Kutcher noted. "As marriage goes, I think most people set getting married as the goal, as opposed to being married, which is a different thing."
Moore was then questioned by Morgan as to whether her husband is a romantic, to which she replied: "I would say so… If you go to our house, I have Post-It notes placed in various locations, all with messages [written by Kutcher] of encouragement or love or just thought."
Kutcher then quipped: "Post-It notes are much cheaper than diamond rings!"
Earlier this week, Moore revealed that
she was "manipulated and taken advantage of" during her teenage years
.
Piers Morgan Tonight
airs weeknights at 9pm ET on CNN and at 8pm GMT on CNN International.
> Kutcher: 'Romance is like an island'
Watch Ashton Kutcher and Demi Moore discuss their marriage on
Piers Morgan Tonight
below: