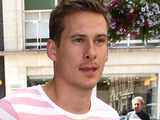 Lee Ryan
has hit back at accusations from relatives of his daughter that he is a "terrible father" who refuses to pay child maintenance.
The Blue star, who along with his bandmates will
represent the UK at next month's Eurovision Song Contest
, has seen his parenting skills and devotion to daughter Bluebelle called into question by the child's grandmother Janet Stowell.
Speaking to the
Sunday Mirror
, Stowell claimed that Ryan has broken his promise to financially support Bluebelle and has instead left his ex-partner Jess Keevil to raise the little one single-handedly.
Stowell blasted: "Lee's been a nightmare. Jess has had to ­battle to bring their daughter up all by herself. It's as if his own child is an ­inconvenience to him. Every time we ask for help he ignores us.
"I was there when Jess told Lee they were having a child. He seemed happy to start with but he panicked after that. From that moment on it was clear he did not want his child.
"He has never been there. He has probably seen Bluebelle a handful of times... She absolutely adores him. It's heartbreaking."
She added: "Everyone thinks Lee is a lovely, nice guy but we've seen nothing but an immature fool who doesn't want to help his daughter."
In response, a spokesperson insisted that the 'I Can' singer had in fact played a prominent role in his daughter's life since her birth in 2008.
They told
Mail Online
: "Lee has being paying constant regular maintenance to Jessica Keevil for the last year and a half, ever since he found out Bluebell was his child. In fact Lee transferred money into Jessica's account only last week. Any suggestion that he has not is complete fabrication.
"In addition, Lee held a birthday party for Bluebell at his sister's house in June last year.With regards to access to Bluebell, there has been an ongoing dispute in 2011 between Lee's family and Jessica's family, which has made visitation rights awkward."
Ryan also has a
16-month-old son
named Rayn with his
fiancee Samantha Miller
.
Watch the video for Blue's 'I Can' below.