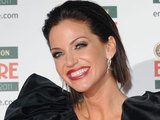 Girls Aloud star
Sarah Harding
has blasted her "destructive" and "selfish" estranged father, who she considers to have died after he left her mother for a younger woman.
The
'Loving Kind'
singer turned her back on John Hardman after the breakdown of her parents' 18-year marriage in 1999 and has ignored his
continued requests for a reunion
ever since.
Speaking to
The Mail On Sunday
, Harding said: "My father is dead to me - I can't forgive him. After he and my mother divorced, he wasn't a very nice person, and what's done is done.
"Looking back, I think the split was more destructive and destabilising than I realised, because I started bunking off school and getting into trouble.
"I know it's harsh, but I have no place in my life for someone like that. I came close to being in contact with him again, but he talked to the press and tried to sell pictures of me as a young girl. He's a very selfish man and as far as I'm concerned he's gone."
Defending her controversial comments further, Harding argued that Girls Aloud would never have lasted in the music industry without "going against the grain" and standing up for their beliefs.
She said: "One reason Girls Aloud were so successful was that we were a bit outspoken. I think people respond to that. Bands today are too scared to speak their minds.
"I'm confused by today's music scene: where have all the guitar bands gone? It's all very R&B at the moment. When I hear bands being interviewed these days they just say what people want to hear the whole time. I like to see a band going against the grain."
DJ Roger Sanchez recently insisted to
DS
that Harding, who appeared in the video for his latest single
'2Gether'
, is in fact a
"subdued" and "chilled-out" person
.