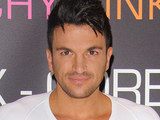 Peter Andre
has dismissed "ridiculous" stories about himself and ex-girlfriend Elen Rivas.
The 38-year-old told fans that press claims about the
end of his relationship with the Spanish model
are "nonsense" and insisted that the pair remain "good mates".
"There have been a lot of ridiculous stories floating around about me and Elen Rivas in the last week," he wrote in his
New!
magazine column. "One said we split up because I was texting my old pal Ange Mogridge, and one said that Elen was finding it hard to let go and that she's really missing me.
"It's all such nonsense, honestly. I know everyone finds it really hard to believe, but Elen and I really are still very good friends."
He continued: "We really like and respect each other and we've really successfully gone from being a couple to good mates. There's no hard feelings whatsoever. I'm actually really gutted that I'm not going to be there to support her during the London Marathon.
"I'll be in Cyprus, which is a real shame as I wanted to go and cheer her on. She's trained so hard and has raised so much cash for charity."
Commenting on his trip abroad, Andre confirmed that he has taken his three children on an Easter break.
"If you believe everything you read, you'd think I was going away to get over my broken heart but, trust me, this isn't the case," he said.
> Peter Andre: 'Split saved Rivas friendship'
> Peter Andre: 'I'm a dirty little rotter'