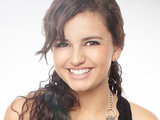 Rebecca Black
has said she doesn't understand why her song
'Friday'
has provoked several death threats.
Earlier this week, it was reported that
police in Anaheim are investigating threatening phone and e-mail messages levied against the 13-year-old singer
.
In an interview with
Extra
, Black told host Mario Lopez that she can't comprehend what she has done to elicit violent reactions from the public.
"I think that's kind of weird," the singer commented. "It's a song. It's not like I ran for president and then I said something really bad... What did I do? I sang a song about a day."
While the musician has received some harsh criticism since releasing the song last month, she has also garnered support from the likes of
Simon Cowell
,
Miley Cyrus
and
Nick Jonas
.
Black also expressed enthusiasm over
reports that that the cast of the hit Fox sitcom Glee plan to cover 'Friday' on an upcoming episode
, adding that she hopes Chris Colfer's character Kurt takes on lead vocals.
"I really like Kurt," she beamed. "I'm a Kurt person, so that would be really cool!"
> Rebecca Black's 'Friday' passes 100m views
Watch Rebecca Black's music video for 'Friday' below: