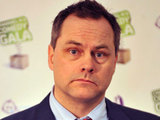 Comedian
Jack Dee
has revealed that he turned to hypnotherapy to counteract his depression.
Speaking to
The Daily Telegraph
, the
Live at the Apollo
comic - who has also had problems with alcohol - admitted that a course of anti-depressants was ineffectual.
He said: "I was on various anti-depressants, but not for long - I didn't function very well on them. I felt sort of flattened out. Plus I found another way… Hypnotherapy.
"It's very good. I mean it's only really talking. I always think of it as being a bit like a brain massage. It just sort of resets you."
The star added: "Sometimes you have to switch the computer on and turn it back off again. I try and do it once a month and no more, because you can end up depending on things.
"I don't want to come off stage and think I did a good gig just because I was wearing red socks. Life would become intolerable."