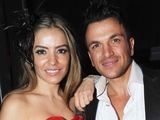 Peter Andre
has insisted that he is not looking for a new relationship because he could not make it a priority in his life.
The singer, who split from girlfriend Elen Rivas earlier this month, told
New
magazine that he and the Spanish model had mutually agreed to end their four-month romance, something
he claims has saved their friendship
.
"My priority is my kids and work and I can't prioritise a relationship at the moment," he said. "Having a relationship is a great idea in theory, but I can't put anyone else first at the moment.
"I don't expect anyone to put up with it and I always felt bad with Elen because she said to me, 'I want a guy who I can just call and say, 'Let's meet up now, let's do this together now','. I was like, 'Yeah, fair enough'."
On their split, he explained: "We both agreed. We didn't want it to spoil the potential to be friends forever, so we both knew it was the right thing."
However, Andre admitted that there is still one celebrity he would consider dating, saying: "I think dating someone in the industry would be a bit scary. Unless it was Cheryl Cole! I've always had a soft spot for her."
> Peter Andre dismisses "nonsense" Rivas press