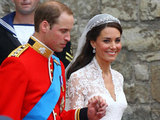 More than one million people came to London today to witness the royal wedding.
An estimated 500,000 people flocked to the Mall alone - the tree-lined boulevard leading to Buckingham Palace - to get a glimpse of
Prince William and Kate Middleton while they kissed on the balcony
.
During the day, ten crowd members were arrested as 5,000 police officers created a ring of steel around the royal wedding.
The suspects are being questioned for a number of offences such as breaching peace, handling stolen goods, assault and possessing an offensive weapon.
An abandoned car was also inspected and cleared in Westminster before the ceremony went ahead. Scotland Yard explained that the arrests were made "within and outside the event footprint".
Crowds along the streets surrounding the abbey were separated from the road along which the royal couple travelled by two sets of barriers several feet apart.
Transport for London said that Westminster Tube station was closed to prevent overcrowding.
Watch the earlier procession route back to Buckingham Palace below:
> Live Blog: Royal wedding highlights
> Prince William marries Kate Middleton
> Live Photos: The royal wedding
> Gallery: The royal wedding celebrations
> Video: Celebrities reveal royal wedding plans
> The royal wedding in numbers
> Read our full royal wedding coverage