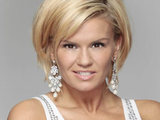 Kerry Katona
's ex-boyfriend has described her as "needy" and desperate for love.
Dan Foden, who starred on ITV1 dating show
Take Me Out
,
dumped the reality star last week
as he didn't want to become stepfather to her kids.
He told
The People
: "Kerry just wants to be loved. She's just desperate for someone to love her and accept her which makes her a bit needy and full on.
"The spark wasn't really there. My friends told me to stick at it and be the next Alex Reid but I think I could have stomached Katie Price a bit longer. I couldn't do it physically. I didn't have that level of attraction. You've got to be really into someone to put up with all that s**t.
"All the girls I'd been with before had no ties, no kids. All of a sudden I'm the other end of the spectrum. Two kids I can deal with but when there's f**king four of them... It was just too much. There's normal baggage and then there's her conveyor belt full of baggage. I wasn't ready to be a dad. I knew it wasn't going to be long term."
Earlier this month, sources
claimed that Foden was using Katona for fame
.