9
Showbiz News
Prince William aware of "terrified" bridesmaid
Prince William
has been filmed commenting on bridesmaid Grace van Cutsem's "terrified" expression during
his balcony kiss with Kate Middleton
.
An image of the 3-year-old, who is a goddaughter of William's, looking sullen and covering her ears as the royal couple locked lips has raced around the internet since Friday's ceremony.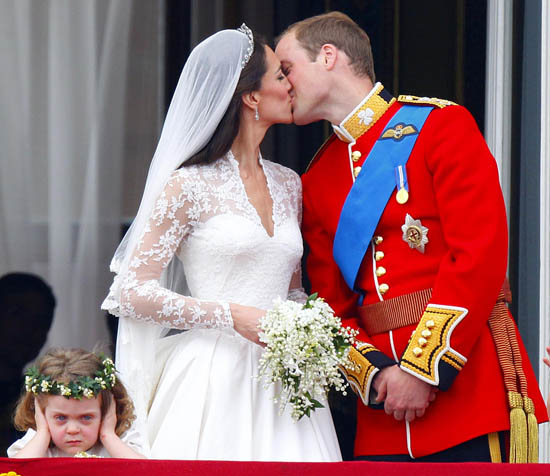 In footage taken from inside Buckingham Palace after the display, William can be seen playfully discussing van Cutsem with Middleton, Prince Charles and Camilla Parker Bowles.
"Did you see how terrified Grace looked?" the young Windsor asks, before copying her gesture. "Grace, she was like with her hands on her ears."
Little Grace is not the only viral sensation to have emerged from the historical nuptials -
footage of a verger cartwheeling through Westminster Abbey
after the event has clocked up hundreds of thousands of views on video sharing websites.
> Gallery: Royal wedding family portraits
> Prince William, Kate Middleton postpone honeymoon
> 26 million watch royal wedding in UK
> Lily Allen, Miley Cyrus react to royal wedding
> Photo highlights: The royal wedding
> Video highlights: The royal wedding
> Prince William 'joked with Kate's dad at altar'
> Read our full royal wedding coverage