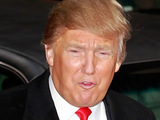 Donald Trump
has reportedly revealed that he did not consider the mockery that took place at the White House Correspondents' Dinner to be entirely appropriate.
US President Barack Obama
made fun of Trump for his presidential bid
, even displaying a image of the White House that predicted what would happen if Trump was successful.
According to
TMZ
, Trump phoned into
Fox and Friends
to discuss the mockery, stating that he found it inappropriate.
"It was almost like, is there anyone else they could talk about?" Trump said.
Trump recently
cancelled his appearance on The Late Show with David Letterman
, after the host
demanded that Trump apologise for his recent scrutiny of Obama
.
Trump
publicly questioned Obama's citizenry
early last month, stating that the US president should release his birth certificate in order to prove that he is eligible for the presidency.
Watch Barack Obama's speech about Donald Trump below: