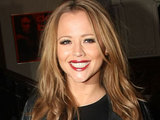 Kimberley Walsh
has revealed that she doesn't think Peter Andre and Elen Rivas's
five-month relationship
was real.
The Girls Aloud star claimed that their romance, which ended last month, seemed like it was fake.
She explained to
OK
: "Whenever I've met Peter Andre I've thought he's really sweet but his relationship with Elen Rivas seemed contrived. If it was a showmance it's really sad to go to those lengths."
Andre and Rivas met at manager Claire Powell's birthday party in November and have insisted that they will remain friends.
However, Walsh suggested that a
recent meeting
between the pair was a publicity stunt.
She added: "I also saw that they met up at Danielle Brown's coffee shop, who Pete and Elen's management also look after. It's cringey on their part! I'm surprised they think people are so clueless!"
> Peter Andre: 'Love life not stage-managed'