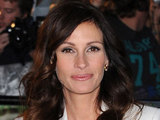 Julia Roberts
and Hillary Clinton have revealed that they were among the millions of viewers who watched the
royal wedding
on Friday.
Roberts told
People
that she watched the nuptials at home with her 6-year-old daughter.
"I sat with Hazel in my lap watching it," the actress said. "It was very exciting."
Secretary of State Clinton, who is currently working with Roberts on a charity project, also said that she found time to tune in to the wedding.
"I was on e-mail with my daughter and my 92-year-old mother lives with us," she said. "So the three generations of women in my family were watching the royal wedding.
"I deal with so many… painful decisions about what's going on around the world every day; to relish the happiness of these two young people who carry a lot of the hopes - of not only their fellow countrymen and women but people around the world who tuned in - it was very joyous."
The wedding of Prince William and Kate Middleton was watched by 26 million people
in the UK.
> Video highlights: The royal wedding
> Photo highlights: The royal wedding
> Prince William marries Kate Middleton
> Gallery: Royal wedding family portraits
> Gallery: The royal wedding celebrations
> Read our full royal wedding coverage
Watch Prince William and Kate's balcony kiss below: