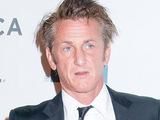 Sean Penn
has reportedly ended his friendship with Naomi Watts.
The Oscar-winning actor, who has been friends with Watts for years, apparently fell out with her after she warned him against dating
Girl with the Pearl Earring
actress Scarlett Johansson.
A source told
Now
magazine: "He's shut Naomi out of his life. She's very sad about it all."
Another insider revealed that Johansson has moved into Penn's Malibu home, saying: "She's at his house most nights and has been accepted by his teenage sons. Things have moved at a fast pace and both feel they have found their perfect match."
Penn and Johansson are believed to have been dating since February
this year.
He split from wife Robin Wright in 2009
, while 26-year-old
Johansson announced the end of her marriage to Ryan Reynolds in December
.
Watts recently starred with Penn in thriller
Fair Game
.
Former spy Valerie Plame, who is portrayed by Watts in the movie, said that she was "delighted" with the casting
of the film.
> Read our latest Showbiz news